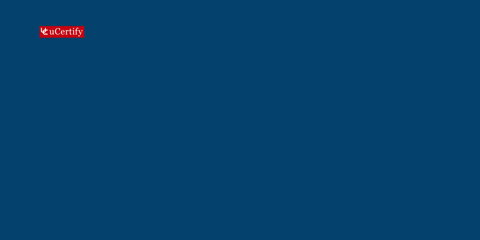 Investment is never simple! There are many considerations that must be paid, and risks along the way but sometimes there is no harm in doing experiments, especially when it is free of cost. This is the reason uCertify offers a free trial for all its courses where you can get unlimited access to 50+ pre-assessment questions; quizzes, flashcards and exercises of the first chapter; and analytics of the questions attempted.
In all its courses, uCertify uses content from well-known publishers, instructors, and subject matter experts who have a minimum of 15 years of experience in their fields. uCertify brings these textbooks to life. It is full of interactive activities that keep the learner engaged. uCertify brings all available learning resources for a topic in one place so that the learner can efficiently learn without going to multiple places. Challenge questions are also embedded in the chapters so learners can attempt those while they are learning about that particular topic. This helps them grasp the concepts better because they can go over it again right away which improves learning. Learners can do Flashcards, Exercises, Quizzes and Labs related to the chapter. The ucertify platform supports 50+ different types of interactive activities, connect the idea, or try it yourself lab activities embedded throughout its course. These interactive activities make learning fun.

So, what are you waiting for? Browse through our rich library of 400+ titles and select the right courses for you to accelerate your career trajectory!